I voluntarily reviewed a complimentary copy of this book which I received from the author. All views expressed are only my honest opinion.  Disclosure: Affiliate link included. Making a purchase through my links cost you nothing extra, but can provide this site with a small fee.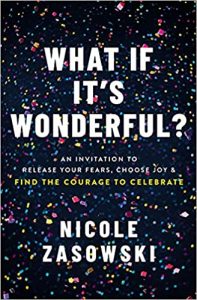 Publisher: Thomas Nelson (March 8, 2022)
Paperback: 240 Pages
Don't spend your life practicing disappointment and rehearsing tragedy when you can experience God's gift of joy and celebration today.
Author and marriage and family therapist Nicole Zasowski knows that it's difficult to trust joy and find the courage to celebrate when you have endured seasons of disappointment and despair. When God has been your faithful anchor in the storm, does joy then leave you unmoored? Nicole reminds us that we can stay tethered to the hope of Christ in seasons of celebration, because even joyful days hold the learning, growth, and intimate encounters with Jesus that our hearts crave.
What If It's Wonderful? offers a new perspective. With a compelling psychological and spiritual case for the importance of embracing joy and celebration, even when it feels scary, it will help you
identify common barriers and hesitancies to experiencing joy, debunk their lies, and overcome your fears,
confront toxic messages you have received about joy as you learn to see celebration as an avenue of growth and intimacy with God,
approach life with an expectant heart, a receptive posture, and courage to trust God's good gifts, and
stay emotionally healthy and spiritually alive in seasons of joy and celebration.
Things don't always have to be hard to find God and to stay close to him. Release your fears and accept his beautiful gift of joy and celebration.
About Nicole Zasowski
Nicole Zasowski is a licensed marriage and family therapist and the author of From Lost to Found. As an old soul who wears her heart proudly on her sleeve, she enjoys writing and speaking on topics that merge her professional knowledge, faith, and personal experience. Nicole lives in Connecticut with her husband and their three young children.
My Review
A Christian Spiritual Growth book, like this one, can be life-changing. I love that this book's author gives us so much of her personal journey. It is so much better when the reader can relate to the topic, and Nicole does that throughout the book. It helps that I have so much in common with her in her miscarriage experiences. I could have written much of her book myself and found so much to have in common with her. The emotions and changes are very real and I love what she wrote and how it can really help anyone to come to the end of this journey with joy.
This is one of the best Christian growth books that I've read and I will be so happy to read more of her books. I would also love to have a workbook to accompany this book. I plan to share this book with many people that I know. Her writing is easy to understand and she explains complicated topics in a very clear manner. This book will challenge you to rejoice and celebrate all that God has done and is doing in your life.
Purchase: Amazon
Instagram features:
Monday, March 28th: @itsbibliotherapy
Tuesday, March 29th: @the.caffeinated.reader
Wednesday, March 30th: @readresa
Thursday, March 31st: @girlsinbooks
Friday, April 1st: @wherethereadergrows
Saturday, April 2nd: @thebookend.diner
Sunday, April 3rd: @lovemybooks2020
Reviews:
Tuesday, April 5th: @teaandbookstoo and Reading, Writing, and Pondering
Wednesday, April 6th: @lyon.brit.andthebookshelf
Thursday, April 7th: Only By Grace Reviews
Thursday, April 7th: Read Eat Repeat
Monday, April 11th: @reading.is.your.destiny
Monday, April 11th: A Baker's Perspective
Wednesday, April 13th: @pickagoodbook
Thursday, April 14th: Cats in the Cradle Blog
Monday, April 18th: @createexploreread
Wednesday, April 20th: What is That Book About
Thursday, April 21st: @bookish801
Thursday, April 21st: @what.ems.reading
Friday, April 22nd: Diary of a Stay at Home Mom
Monday, April 25th: The Bookish Dilettante
Tuesday, April 26th: @karen_runwrightreads and Run Wright
Tuesday, April 26th: Lisa's Reading
Wednesday, April 27th: @theocbookgirl
Thursday, April 28th: @wellreadtraveler
Friday, April 29th: @nurse_bookie
TBD: Monday, April 4th: @jenniaahava
TBD: Friday, April 15th: @chill_jilland_read