I voluntarily reviewed a complimentary e-copy of this book which I received from the author. All views expressed are only my honest opinion.
Tastes Like Murder: A Fiona Quinn Mystery by C.S. McDonald
Genre: Cozy Mystery
Purchase By Clicking on the Picture Below: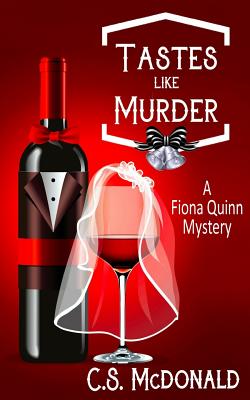 My Review
Fiona is in a heap of trouble! As the maid of honor for Tatum, she has a hard time keeping the demanding bride happy. But, she does everything that the bridezzilla wants and ends up handing her a glass of juice that kills her. Now Fiona is the number one suspect in this fun and light-hearted cozy mystery.
Fiona's boyfriend is Detective Landry, who is now on the murder case. Because of a conflict of interest, a cop with narcolepsy must appear to be in charge. Of course, this sets up for many a comical moment. As the rehearsal dinner and wine tasting was a complete disaster, all of the bridal party must be questioned. Fiona only has one person that she considers to have a real motive for killing the bride-to-be.
As more and more clues are discovered, Fiona is exonerated. She goes off on her own to try to get to the bottom of it and puts herself in danger. Will her loving detective be able to solve the case in time to save her life? Who really did kill Tatum? There is a huge cast of characters and a lot of humor. It was a quick read and I enjoyed it very much.