One Family's Alzheimer's/Dementia Journey and the Lessons Learned Along the Way
Non Fiction
Date Published: July 10, 2020
"I Love You Always" introduces you to Lottie Mae Polk Berry, am self-proclaimed badass who battles Alzheimer's and vascular dementia for years, hoping to make it to age 90. Her daughter, LaBena, gives a detailed account of Lottie's life from her teenage years, through diagnosis and beyond.
"I Love You Always" will have you on an emotional roller-coaster as Lottie's wit and antics send you into hysterical laughter one moment and leave you silently sobbing the next. Calm, turbulence, and laughter are recurring themes throughout.
Her children struggle to see that she receives the best medical care while hoping, in spite of her condition, that she makes it to her 90th birthday. LaBena shares valuable caregiver tips she's learned, in the form of "lessons" throughout the book as well as messages of faith in the form of beloved biblical passages. Believers and non-believers alike can benefit from reading this story.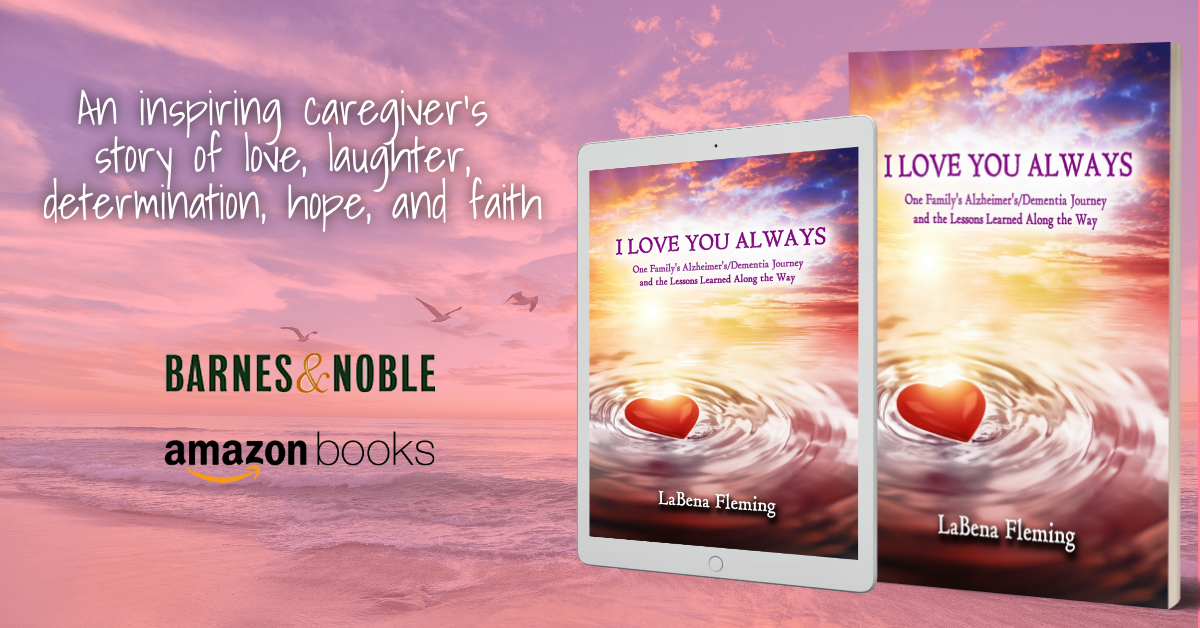 About the Author
LaBena Fleming was born in Detroit, Michigan, raised in Ravenna, Ohio, and presently resides in Richmond Heights, Ohio with her husband. LaBena received her bachelor's degree in Human Resources Development from Notre Dame College of Ohio. She went on to earn master's degrees in Education and Educational Administration from Ursuline College in Pepper Pike, Ohio. A former insurance industry professional, school teacher/administrator, and community education and outreach coordinator for an organ and tissue procurement organization, LaBena retired from her position as Provider Relations Manager/Community Outreach and Education Coordinator with Hospice of the Western Reserve in 2017. Retiring afforded LaBena the opportunity to serve as one of the caregivers for her mother, who had Alzheimer's and vascular dementia.
LaBena currently enjoys spending time with her husband, daughters, and
granddaughter, public speaking, gardening, cooking, traveling, reading, and
of course writing. Although she has always "dabbled" in writing; having
written multiple poems and freelancing for a few greeting card companies, I
Love You Always is her first book.
Contact Links
Preface
I am no one special. I am simply the daughter of a mother who was diagnosed with dementia. I'd had the privilege of working with a hospice provider for several years prior to my mom's diagnosis, and it was during that time that I learned about dementia.
Sitting in our team meetings, I would hear about disease progression, caregiver tips, etc., and I was afforded the opportunity to receive special training on the basics of dementia that prepared me to educate community members who were caring for loved ones with the disease. Once I began caring for my mom, however, everything I thought I knew went right out of the window. It's one thing to learn about dementia, but it's totally different when you live it.
This book holds my truth: the good, the bad, and the ugly. My prayer is that you will be able to learn from my experiences, that you will look for light in the darkness, and that you will see and take advantage of the beautiful moments that present themselves during the journey. More importantly, I pray that you hold on to faith. It is faith that sustained me when I felt I couldn't go on for one more moment. God didn't promise that we wouldn't go through storms, but we can find comfort in knowing that He is right there with us through it all.
I can do all things through Christ which strengtheneth me. Philippians 4:13
Author's note: All biblical quotations are from the King James Version of the Bible.
Purchase Links